Rigoni di Asiago (Vicenza) organic jam is one of the best known by consumers. At Cibus Connect in Parma, we asked export manager Cristina Rigoni how they managed to achieve these results while maintaining a widespread retail presence.
"First of all, you need a high-quality product, because it's consumers who push retailers to stock a particular product. If consumers do not look for you, sooner or later your product will be relegated to the less-visible areas and then be taken off altogether. Luckily, this is not our case! I believe people do make the difference. Human relationships, honesty and being present are all qualities that pay off. We are a family business, so certain values are very important for us. They are what made us gain credibility and visibility with our consumers."
Established in the 1920s, Rigoni decided to focus on organic productions in 1992. The raw material comes from two areas: soft fruit is cultivated by branches located in Blugaria, while apricots, peaches and citrus fruit are bought from Italian suppliers.
"We export to 15 countries worldwide, mainly France, Germany and the US. We are a small-medium firm with around a hundred employees. We supply retailers and 20% of the turnover comes from abroad. I believe the Rigoni brand is most of all known for its great quality. Our ingredients are just fruit, apple juice as a sweetener and natural pectin."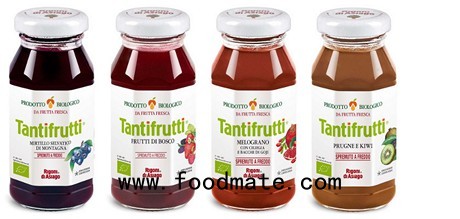 Another product range is the Tantifrutti fruit nectar. At the moment, the flavours available are wild blueberry, mixed berries, pomegranate mix, cherries and goji berries, plum and kiwi mix. All production stages are carried out with moderate heat treatments to preserve the aroma of the raw material. These organic nectars are sweetened with just organic apple juice and sugar. For example, the blueberry nectar contains over 250 blueberries and an apple per bottle. Tantifrutti is available in the practical three 125 ml bottle cluster.
Organic fruit sugar is also extremely interesting. Rigoni introduced an organic apple extract that deserves plenty of attention. DolceDì is a "special" natural sugar that provides many advantages compared to traditional sugar and synthetic sweeteners.
Natural sugars and fructose (over 50% of the total) create a natural sweetener. Just think that DolceDì sweetens more than sugar but has 30% less calories. The glycemic index, measured using the standard method (FAO/WHO Expert Consultation 1998), classified it as a food with low glycemic index. Rigoni di Asiago uses 12 kg of organic apples to make 1 kg of DolceDì, thus producing an innovative high-quality product.
DolceDì has the consistency of a very thick syrup that dissolves easily both in cold and hot beverages and can fully replace traditional sugar, as it can be used in sweets, fresh fruit salads and hot beverages. In addition to the 350 gram bottle, single-dose 6 gram sachets are also available.