UNDERSTANDING the importance of temperature, moisture, pathogens and contaminants when growing spinach was one focus of growers – but consumer demand should also be in their eyesight.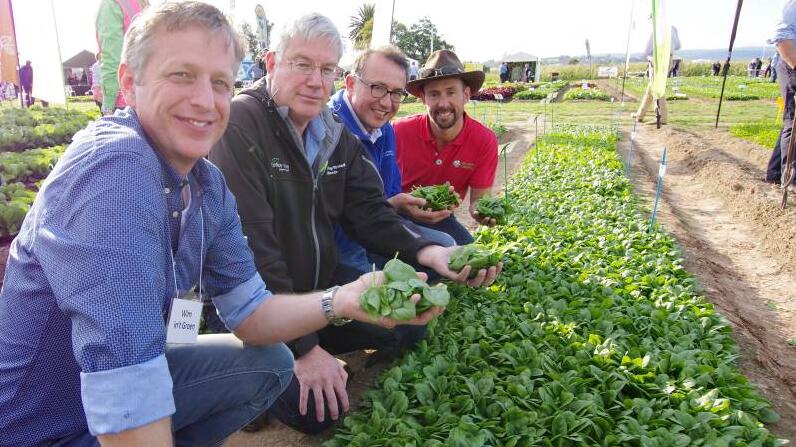 The growth in consumer demand for spinach was driven by the growth of both fast food and health markets.
That was the message from a growers' masterclass about growing spinach at the East Gippsland Vegetable Innovation Days, held at Lindenow earlier this month.
It was standing room only in the masterclass, as a panel of four – Nick Laminski, Jan de Visser, Len Tesoriero and Wim in't Groen – discussed a range of issues relevant to spinach growers.
"Spinach production is growing in line with health and fast food trends globally," masterclass facilitator, Stuart Grigg, said.
"Bag sales into chain stores grew by 11 per cent last year – from 110,962,000 bags in 2015 to 123,362,000 bags last year."
Some farmers were specifically producing spinach for burger franchises at the same time as people's burgeoning health focus was growing sales in spinach for 'smoothies', according to Wim in't Groen, a specialist breeder.
The key markets for growth were China – for bunching spinach – and the United States of America – for organic and conventional baby leaf – according to the speakers.
"In the USA, 30pc of spinach production was in organic baby leaf, because of health trends," Mr Grigg said.
The total production of spinach in the USA was 400,000 tons (circa 2009); in Europe, 520,000 tons (2009 figure).
Experts suggest the breeding timeframe for new spinach varieties needs to be shortened in order to meet the rapid pace of consumer demand.
Holland and Belgium were leading growth areas for spinach production in Europe.
In the Australian fresh market, consistent growth was being measured in bagged spinach.
While consumer demand was driving product innovation, growers found the phenotype conditions for growth needed to be managed.
Striking hybrid varieties gave the advantage of stable disease control, according to Mr Groen.
European growers were producing selenium enriched spinach based on consumer demand.
The length of a sunny day was a critical factor in spinach production, particularly seedstock production of new hybrid varieties, according to Jan de Visser.
"The length of the day in Denmark is advantageous to seed production," he said.
"Hybrid varieties focus on stable disease control. Product innovation in seed selection is a significant consideration to reduce soil borne pathogens in the mature plant.
"For example, Pythium aphanidermatum can be dormant at cool temperatures but grows quite rapidly as the temperature increases to warm."
Biosecurity measures needed to focus on reducing the spread of common soil inhabitants.
"Machinery, people, water, dust in the air and insects all spread dirt which contains common soil inhabitants; and therefore risk infecting the crop," plant pathologist, Dr Len Tesoriero said.
Challenges of producing spinach
There were any number of foliar disorders, root infections and contaminants that growers needed to manage their spinach crop to avoid.
Downy mildew, anthracnose, pythium and root rot complex were four common issues for Australian growers.
"We need to be managing the soil structure to reduce issues of moisture management and stress on the crop. One of those options is crop rotation," agronomist Stuart Grigg said.
Key management strategies for all disease mitigation included using fresh seed, increasing soil pH, avoiding excess ammonium nitrogen, amending for lack or loss of calcium during the plant's growth, and avoiding persistent herbicides, among other behaviours.
Crop rotation was another key strategy to manage these issues and reduce soil borne pathogens.
"Adding organic matter of green manure and compost to the plot increases microbial diversity in the soil," Mr Grigg said.
"Growing brassicas or sorghum is a form of biofumigation of the soil."
Breeding disease resistance was a matter of prioritising breeding traits, according to spinach breeder, Wim in't Groen. He said each hybrid variety was another step towards breeding stable disease control.
Peronospora farinose (downy mildew), colletotrichum (anthracnose), cladoesporium, fusarium, pythium, cucumber mosaic virus and albugo (white rust) were the priority traits breeders were focussed on.
Growers could help in setting those priorities by analysing and recording how the seeds and plants performed in their own environments.
Disease symptoms included rotted seed before emergence; seedling damping off post emergence, showing a watery, dark stem base; brown or black root rot; stunting; leaf yellowing; and wilting.
Foliar disorders included white rust, downy mildew, root rot complex and anthracnose – foliar disorders could be managed by being aware of moisture and implementing strategies that included mitigating temperature, rain and weather incursions.
Prolonged wet spells were also a breeding ground for pathogens – foliar disorders had a detrimental impact on the appearance of the leaf, which affected consumer behaviour, according to Mr Grigg.
There were several pythium species which acted according to temperature – for example, ultimum and irregular affected spinach grown in cool temperatures; whereas aphanidermatum occurred in warm temperatures.
So when growers selected seed and plants bred for pythium resistance, they needed to make those decisions based on the specific time of year and expected weather patterns for their region during the growing and harvest period.
Biosecurity on farm was a critical management issue to protect crops, according to NSW DPI senior plant pathologist, Dr Len Tesoriero.
Common soil inhabitants were spread in the dirt carried by people's shoes and clothes and machinery, transmitted in water, via dust in the air and by insects.
"Sclerotia, soil oospores, chlamydospores and organic matter are easily airborne and need to be factored into the micro-organism management of crops," Dr Tesoriero said.
"Seed dressing can control pathogens – for example, rhizoctonia controlled by tiabendazole seed dressing."
Microbial biocontrols were also recommended.
"Add good quality compost and fertilisers with a microbial base to increase microbial diversity and organic matter to the soil," Dr Len Tesoriero, a senior plant pathologist, said.
Global trends

THE time frame to breed new varieties of spinach needed to contract to better meet consumer demand.
Currently, varieties went through an eight year cycle of breeding and trials before release – that needed to be reduced to five years, according to Wim in't Groen, crop coordinator with Rijk Zwaan.
"The breeders' focus is on producing what the market wants and the current eight year cycle needs to reduce to five years," Mr Groen said.
From the first year of seed selection to male and female line development in years four and five, commercial trials did not complete until year eight.
"We need to be flexible about matching trait tables to market demand," Mr Groen said.
Those traits included colour, leaf shape and size, flex and uprightness of the plant, yield, shelf life and bolting. Some of the varieties on show at the field days and soon to enter commercial trials, were new varieties with thicker leaves.
"Global population and societal trends included small families, urbanisation, lack of water and increasing demand for organic growing methods," Mr Groen said.
"Future opportunities include hydroponic spinach, diversification and plant factories – growing spinach under LED lights.
"We're breeding spinach for the world market, but we also need to meet the individual needs of specific countries."
In Australia, that included breeding for pythium resistance in summer.
Increasing shelf life of the product was another issue that breeders were focussed on.