A woman from San Dimas California says she still feels sick a week later after finding a frog in her salad which she ordered at BJ's Restaurant and Brewhouse in West Covina earlier this month.
Shawna Cepeda was dining with her family and was about four bites into a salad when she noticed the food tasted a little bitter and started to stir it around, according to her June 13 review on Yelp.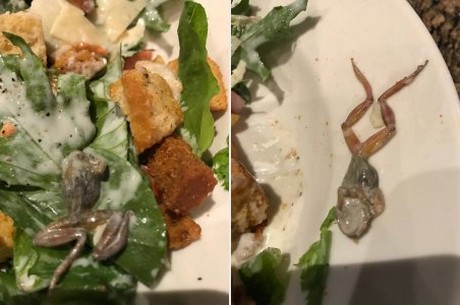 "I see something kind of rolled up. I was like, 'this doesn't look right,' so I passed it to my husband," Cepeda told the San Gabriel Valley Tribune. "I asked, 'Is that a piece of lettuce?' Then he looked and my daughter looked at it and he was like, 'it's a frickin' frog.'"
Cepeda said she informed the manager of the restaurant, who offered to comp her meal but made the family pay for their drinks. Cepeda said she later received a $50 gift card from the restaurant's corporate office.
BJ's has launched an internal investigation "to ensure that nothing like this happens in the future," Chief Financial Officer Greg Levin stated in an email to the newspaper.