The dairy market in India has been a key contributor to the overall packaged foods sales for many years. India is forecast to be the second-fastest growing market in Asia-Pacific and accounted for 14% of regional volume in 2017.
Even though milk is a mature category the prospects look extremely promising in the future even for the overall segment. Looking at the historical performance the dairy market recorded a 16% year-on-year value growth through 2013-17, in line with the growth of fresh milk. Furthermore, dairy is witnessing consistent growth in the consumption of value-added products, such as, flavoured milk drinks, lassi, curd and yoghurt.
One of the key drivers for the growth of overall category is the shift from unpackaged to packaged, increasing health-consciousness and awareness is driving growth.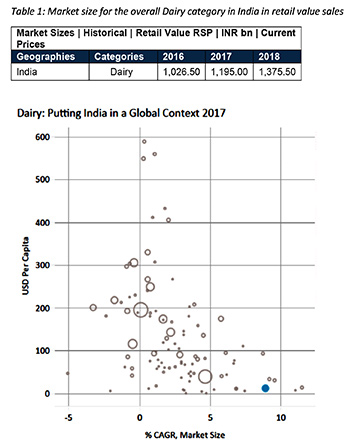 Euromonitor International's definition of the category
Dairy
This is the aggregation of butter and margarine, drinking milk products, cheese, yoghurt and sour milk drinks, and other dairy products.
Butter and Spreads
This is the aggregation of butter and margarine.

Drinking Milk Products
This is the aggregation of fresh/pasteurised milk, long-life/UHT milk, goat milk, flavoured milk drinks, non-dairy milk alternatives, powder milk and flavoured powder milk drinks.

Cheese
This is the aggregation of processed and unprocessed cheese. As an exception, unpackaged hard cheese, such as Cheddar, Edam, Parmesan and Gouda, is also taken under consideration. We have also included soft cheese (paneer) in our coverage. However, the majority of cottage cheese produced is sold in unpackaged format.

Yoghurt and Sour Milk Products
This is the aggregation of yoghurt and sour milk drinks.
Other Dairy
This is the aggregation of chilled and shelf-stable desserts, chilled snacks, coffee whiteners, condensed/evaporated milk, cream, and fromage frais and quark.
Euromonitor International in packaged food we consider two aspects of food sales:
1) Retail sales
2) Foodservice
Retail sales is defined as sales through establishments primarily engaged in the sale of fresh, packaged and prepared foods for home preparation and consumption.
This excludes hotels, restaurant, cafés, duty-free sales and institutional sales (canteens, prisons/jails, hospitals, army, etc). Our retail definition excludes the purchase of food products from foodservice outlets for consumption off-premises, e.g., impulse confectionery bought from counters of cafés/bars. This falls under foodservice sales.
For foodservice, we capture all sales to foodservice outlets, regardless of whether the products are eventually consumed on-premise or off-premise. Foodservice sales is defined as sales to consumer foodservice outlets that serve the general public in a non-captive environment. Outlets include cafés/bars, FSR (full-service restaurants), fast food, 100% home delivery/takeaway, self-service cafeterias and street stalls/kiosks. Sales to semi-captive foodservice outlets are also included. This describes outlets located in leisure, travel and retail environments.
1) Retail refers to units located in retail outlets such as department stores, shopping malls, shopping centres, super/hypermarkets etc.
2) Leisure refers to units located in leisure establishments such as museums, health clubs, cinemas, theatres, theme parks and sports stadiums.
3) Travel refers to units located in based in airports, rail stations, coach stations, motorway service stations offering gas facilities etc.
Beyond the scope of the foodservice research are captive foodservice units that serve captive populations around institutions such as hospitals, schools, and prisons. This is also known as institutional sales.
Developments in Cheese, Drinking Milk Products, Yoghurt and Other Dairy Products
Within dairy, cheese in India witnessed further growth in 2017 due to the increased adoption of Western products and eating out in foodservice outlets. Television cooking shows have introduced many new types of cheese like mozzarella and parmesan, and consumers have started to buy them in various retail channels. Foodservice channels and wider product availability will support continued growth. The use of cheese on pizzas, in pasta sauces and other food have become common.
Meanwhile, Drinking Milk Products are also growing consistently with good prospects as the sales of carbonated drinks and artificial fruit-based drinks are in the declining. Consumers are looking towards healthier dairy-based drinks.
Manufacturers such as PepsiCo India Holdings Pvt. Ltd and Coca-Cola India Pvt. Ltd have been experimenting and bringing in flavour innovation with various drinking milk products. Oats, fruits and other such healthy products are combined with drinking milk products to cater to the needs of health-conscious consumers. The usage of drinking milk products will continue to grow, as they are a part of everyday life and these products are healthy.
Furthermore, yoghurt is witnessing a surge in demand from consumers due to many of its health benefits. Consumption of yoghurt is on the rise because of its probiotic range of products, its ability to improve metabolism, enhance digestion, support the immune system. Yoghurt is also consumed as dessert. It is offered in varieties such as fruited yoghurt, organic yoghurt and drinkable yoghurt which are well received by the consumers.
Yoghurt and sour milk products are part of the Indian food culture and will continue to contribute to growth. Additionally, with existing flavours and the introduction of new flavours like mint and spicy, the category is expected to attract more consumers who are looking for a healthy dessert.
Consumption of other dairy products, such as condensed milk, has been growing as they are widely used as a prime ingredient in many traditional Indian dishes like kheer, gulab jamun and carrot halwa. This was also supported by growing dessert mixes' consumption in India, as consumers have been opting for quality when there is an opportunity to prepare at home. Furthermore, increased consumption during occasions, the growing awareness of products in middle-income groups, higher penetration from manufacturers and availability across all formats of retail stores will promote growth of the category.
Healthy Living and Premiumisation encourages Dairy

The modern consumer is very aware about their health and is reducing dependence on the traditional carbonated drinks and migrating to healthier alternatives. To cater to these shifting consumers' preferences, the manufacturers have expanded their range of value-added dairy products, such as flavoured milk drinks, lassi and yoghurt, which are a better and healthier alternative, to the traditionally available carbonated and sugary drinks. In addition to these traditional categories in dairy, health & wellness variants are also indicating like fortified milk products.
Separately, products such as cow ghee and cheese are perceived to have significant health benefits over other cooking fats, such as vanaspati or ghee. Consumers are increasingly purchasing such products which is driving the overall demand.
Furthermore, the Food Safety and Standards Authority of India's (FSSAI) made it mandatory for milk producers to add more vitamin A and D to packaged milk products, and even private players, such as Nestle SA, have already started implementing the suggestions.
Another burgeoning trend is on the premiumisation front. Consumers are increasingly demanding products having high quality ingredients, exotic flavours and sold in innovative packaging. The market has witnessed growth in butter in different flavours, such as garlic flavoured butter and choco butter spread, which are priced higher than the normal butter.
Brands are also launching different variants of butter, such as unsalted and butter with crush garlic, to expand their footprint in the Indian market. These are priced slightly higher than the usual butter available in the Indian market. The market is also witnessing demand for premium variety of cheese, such as mozzarella, emmental, and leerdammer.
Dairy attracting investments

The Indian dairy market, though dominated by cooperatives, is also witnessing increased interest from financial institutions as an investment destination. For instance, KKR India, local arm of the New York-based buyout entity KKR & Co. Inc., had invested Rs 6,000 million in Kwality Ltd, a major producer of dairy products with the 'Kwality' brand. The Lactalis Group of France, had invested Rs 17,500 million and Rs 4,700 million in Tirumala Milk Products Pvt. Ltd and Anik Industries Ltd, respectively. Cargill Ventures also invested Rs 1,100 million in Dodla Dairy Limited.
These investments are driving some competition in the Indian market, promoting private sector players and co-operatives to revamp their strategy, and invest in brand building, expansion, direct procurement and distribution. As a result, Heritage Foods Limited spent approximately Rs 750 million in brand building exercise, while Gujarat Cooperative Milk Marketing Federation, producer of the Amul brand of dairy products, had plans to invest Rs 30,000 million by 2020. Parag Milk Foods Ltd and Prabhat Dairy Limited have invested Rs 640 million and Rs 400 million on strengthening their industry presence.
Furthermore, Gujarat Cooperative Milk Marketing Federation recently announced plans to expand its footprint through the franchisee model, whereby, it would lease out is brand name to individuals and small businesses, against a small fee. This would further enable them to achieve sales as the small initial investment (approximately half a million in local currency) and store space remains very small.
As dairy continues to be part of the Indian culture, it is expected to perform well given the consumer's habit persistence. Euromonitor International estimates that the overall dairy in India will grow at a rate of 15.2% CAGR growth during 2018-23.
With the increased adoption of Western foods both in foodservice as well as in day to day cooking at home, the demand for international and non-conventional will contribute to growth. The healthy living and premiumisation themes are also expected to develop and add new avenues in the dairy market in India.