Yo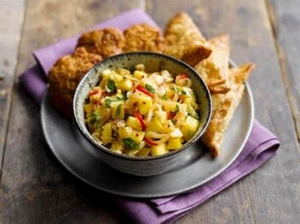 u'll need:


2 tsp nut oil
6 shallots, peeled, trimmed and finely sliced
1 tsp black mustard seeds
1-2 red chillies, deseeded and sliced, depending how hot you like it.
1 medium mango, peeled, stoned and chopped into small chunks
1 Pink Lady apple, peeled, cored and chopped into small chunks
1 lime
2 tbsp golden caster sugar
Small bunch mint, chopped

What to do:

Heat the oil in a large pan and fry the shallots gently for 3-4 minutes. Add the mustard seeds and chillies and cook for a further minute until they become fragrant.

Add the mango, Pink Lady apple, the zest of ½ the lime and the juice of the whole lime, the sugar and a pinch of salt. Cook with the lid on for 15 minutes, stirring occasionally, until the fruit is soft but holds its shape. Remove from the heat to cool then stir in the mint to serve.

Note: Use the same day or if you keep it for a few days in the fridge the flavours will develop. If you do keep it then add the mint when you serve. Great with Bhajis or poppadums.