Symington's has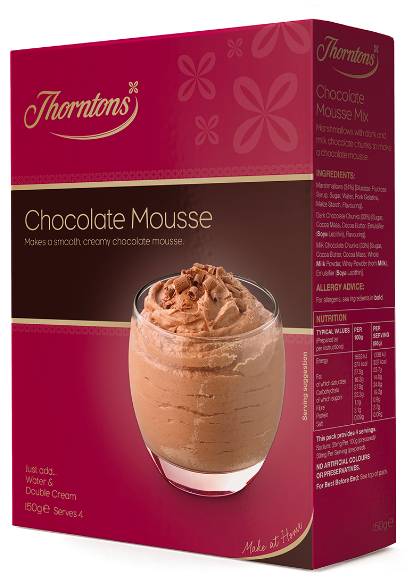 partnered with chocolate maker Thorntons, to create a range of home baking and dessert mixes, launching into the supermarkets this month.

These home baking kits offer consumers an easy to prepare, quality tasting product.

Aimed at both Mums who are looking for a convenient, tasty home baking solution and young baking fans who want an indulgent, easy to make dessert, the Thorntons home baking and dessert mix range, offers a wide variety of choice for any chocolate lover looking to wow in the kitchen with ease.

The new range of six products includes three home baking kits:
• Chocolate Cake 530g – a moist chocolate sponge made with milk chocolate
• Chocolate Brownie 290g – a soft chocolate brownie with dark chocolate pieces
• Mini Chocolate Tortes 240g – 12 bite-sized chocolate tortes, made with dark chocolate

Plus three desserts:
• Marbled Cheesecake 300g – a rich chocolate biscuit base topped with a chocolate and vanilla cheesecake mix, finished with a dark chocolate drizzle
• Chocolate Mousse 150g – a smooth, creamy chocolate mousse
• Triple Chocolate Dessert 185g – a soft biscuit base with a smooth, creamy chocolate mousse centre finished with a layer of dark chocolate

Both the home baking and desserts category are in decline and these Thorntons' offerings hope to bring exciting the NPD and indulgence that's currently missing in the category.

Gary Bustard, Brand Manager at Symington's said:

"Everyone knows the quality of the Thorntons brand and we're delighted to be partnering with them to launch these delicious and indulgent cakes and desserts.

"Mums are increasingly time poor, but still want to deliver on quality and taste at home – the Thorntons range gives her that convenient home baking solution, whilst providing a great tasting treat or dessert for the family."

The Thorntons home baking and dessert mix range has an RRP of £2.49 and will be available in ASDA from mid-July and expected to roll out to other good supermarkets across the summer.