Global Garlic is expanding their recall of De Mi Pais Queso Fresco/Whole Milk cheeses for possible Listeria monocytogenes contamination. The original recall on May 17, 2017 was for 227 units of the cheese. Those recalled products were sold in south Florida supermarkets and bodegas.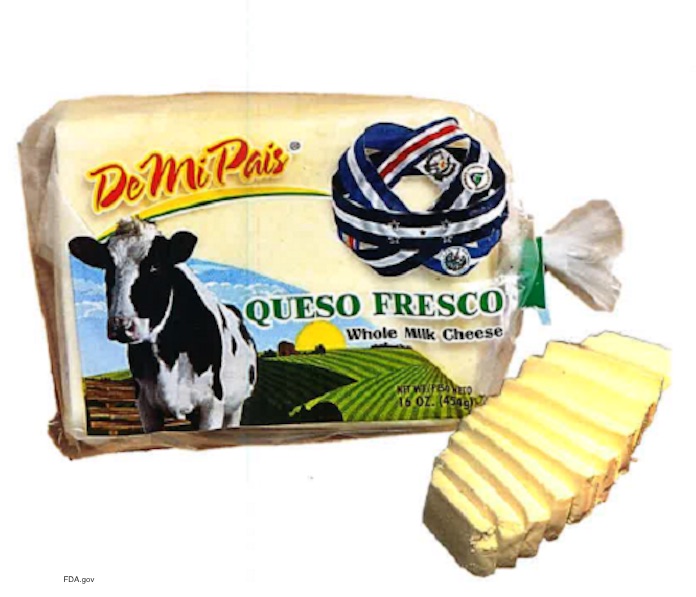 The recall is expanding to include 16 ounce packages of Queso Fresco/Whole Milk, and 5 to 6 pound packages of Queso Fresco x LB(Barra)/Whole Milk Cheese. The cheese was sold in retail stores in Florida, Kentucky, Illinois, Louisiana, North Carolina, and South Carolina. The cheese in the original recall was only sold in retail stores in Fort Lauderdale and Fairdale, Kentucky. The Queso Fresco/Whole Milk cheese has the UPC number 8-96211-00235-9 and an expiration date of 9/19/17; and the x LB cheese has no UPC number and an expiration date of 6/17/17.
If you purchased these products, do not eat them. Throw them away in a sealed container or take them back to the place of purchase for a refund.
Clean out your fridge with a mild bleach solution, since Listeria monocytogenes bacteria can grow at temperatures below 40°F. Wash your hands well with soap and water after handling the cheese.
If you ate any of these products, watch yourself for the symptoms of listeriosis for the next 70 days, because that's how long it can take for symptoms to appear. They include stiff neck, headache, high fever, abdominal pain, and diarrhea. No illnesses have been reported to date as of May 30, 2017.