With the idea of adding value to regular apple packaging, Smurfit Kappa has developed a cardboard playground. The idea was to shift the 'buying decision' in the store from the mother to the child, by creating a box that would grab the youngest consumer's attention.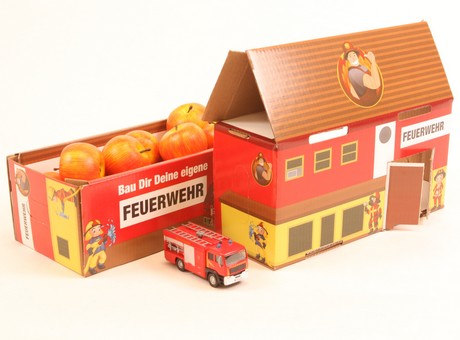 Developed in Germany for Edeka, once on the market, they have been in high demand, selling more than 500,000 units of the design.
"There are two different print designs, a fire station for boys and a toy castle for the girls. We sell the boxes on mixed pallets, so you may choose with design you would like to purchase," shared Daniel Mansfeld, designer of the cardboard playground.
The playgrounds are easy to construct, with assembly instructions printed on the bottom of the box. Once at home, consumers just need to cut out the doors of the fire station with a pair of scissors. The roof of the box can be formed by an easy fold system and locked into the sides of the box.
"We currently only have this packaging in the German market at the moment, but due to our tools and company structure, it would be quite easy to adapt this solution for other markets. The design idea could be used for packaging any other type of fruit or vegetables. I think that a lot of packaging should have an extra use after transport and selling!" concluded Mansfeld.