"The average elevation of Nyingchi, Tibet, is 3,100 meters. The temperature differences between day and night are rather big, and there is much sunlight and ultraviolet light. These unique geographical features make it the perfect natural environment for growing black diamond apples," according to Ms. Yu Wenxin, Market Director at Dandong Tianluo Sheng Nong E-Commerce Trade Co., Ltd.
"Black diamond apples are a breed of Hua Niu apples. This unique breed was developed by the special environment in Nyingchi and the grafting technology of the farmers. Black diamond apples are purple, gleaming, and have a nice texture. From the outside, the apples almost look like candle wax, and are as beautiful as a diamond. That is how they got their name."
"From 2011, we have created an orchard of around 50 hectares (500 mu) with our partners. In 2012, we planted our trees, and in the next three years we have worked hard to grow them. Our 20,000 trees bore fruit for the first time in 2015. This year's production will be around 50,000 kilogram. Black diamond apples annually enter the market at the end of October, and are sold for about two months."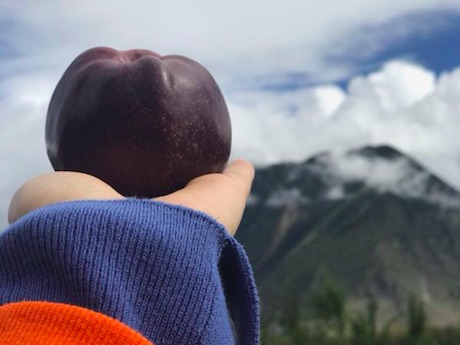 "Because the Chinese production is limited, and distribution costs are rather high, the highly priced black diamond apples belong to the high-end segment of the market. We mostly sell them in gift packages of 6 or 8 apples. Last year, small quantities of our apples were sold to high-end supermarkets in first tier cities in China, where they were received very well. That is why we will be selling them both online and offline this year. We will sell around 50,000 kilogram to major e-commerce players, and distributors and high-end supermarkets in first tier cities in China, like Beijing, Shanghai, Guangzhou and Shenzhen."