The US government and Mexican tomato growers reached a tentative agreement on Saturday that reduces the threat of a costly trade war stemming from a US decision last year to pull out of a 1996 bilateral tomato trade pact.
"I am pleased that we were able to come to an agreement on fresh tomato imports from Mexico that restores stability and confidence to the US tomato market and meets the requirements of US law," Commerce Under Secretary for International Trade Francisco Sanchez said in a statement.
The draft agreement substantially raises the minimum "reference" price at which Mexican plum, cherry and other tomatoes can be sold in the United States and accounts for changes that have occurred in the tomato market since the original agreement, Sanchez said.
For some Mexican tomatoes, the new reference price is more than double the current such price, Sanchez said. The deal is expected to take effect on March 4, after a public comment period, he said.
Mexican Economy Minister Ildefonso Guajardo said the deal guaranteed Mexican farmers access to the US market under conditions that were "fair and competitive."
"We worked hand in hand with Mexican producers on this agreement to avoid damage to the sector," he said.
Mexico exports about $1.9 billion worth of tomatoes to the United States each year.
The proposed agreement spares Mexican growers from having to wage a costly legal battle against a new anti-dumping case brought by Florida producers.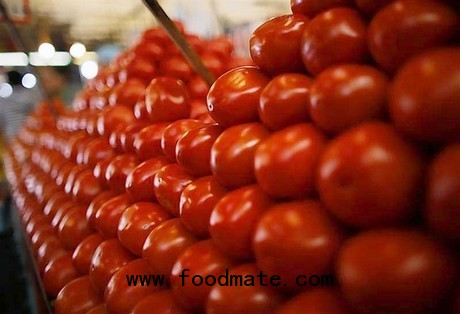 It also averts the possibility of a broader trade war. US business groups such as the US Chamber of Commerce feared Mexico could retaliate if the United States slapped hefty duties on Mexican tomatoes.
Reggie Brown, executive vice president of the Florida Tomato Exchange, stopped short of endorsing the agreement but said it vindicated the US industry's position that Mexican growers were "dumping" their tomatoes in the United States.
"Mexican growers and their government have tried to protect their interests with tremendous pressure on our government, threats to US producers and a well-funded lobbying and media campaign," Brown said.
"The facts, however, were clear and could not be disputed. Mexican tomatoes were being sold in the US market in rapidly increasing volumes at prices that did not reflect the cost of production," he said.
The new pact sets reference prices for four categories of tomatoes, instead of just one under the current pact. It also broadens coverage to include essentially all Mexican growers and exporters, the Commerce Department said.
The four categories, from least to most expensive, are "open field and adapted environment" tomatoes, "controlled environment" tomatoes, "specialty loose" tomatoes and "specialty packed" tomatoes.
The agreement sets winter and summer references prices for each category. The winter prices range from 31 cents per pound for open field and adapted environment tomatoes to 59 cents for specialty packed. The summer prices range from 24.6 cents to 46.8 cents per pound.
The single reference price for all Mexican tomatoes under the current agreement is 21.6 cents per pound in the winter and 17.2 cents in the summer.