Tangerine Confectioner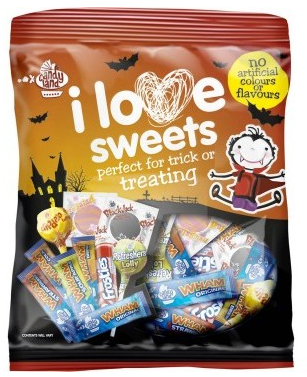 y, the manufacturer of sugar confectionery brand, Candyland, has launched a new variety pack, in order to tap in to the market for Halloween-inspired confectionery.

The new 'I Love Sweets' Halloween variety bag (200g, RRP £1) is designed to appeal for trick or treating with its spooky packaging and boasts a range of retro classic sweets that consumers know and love.

Each pack contains a random mix of treat-size favourites, including Kola Frosties, Wham Assorted Mini Chews, Dip Dab lollies and Refreshers lollies.

Speaking about the launch of the I Love Sweets Halloween variety bag, Beccie Deighton, assistant brand manager at Candyland, said:

"Halloween is a key period for the confectionery sector and we're capitalising on the demand for spooky and ghostly themed products by launching our new I Love Sweets variety bag.

"Perfect for Halloween parties and trick-or-treating, the new variety pack consists of a range of our best-loved confectionery items, which we know will go down a treat with consumers.

"The packaging has been designed to take on a spooky feel, featuring classic Halloween colours and graphics, creating the perfect Halloween treat solution for consumers.

"Competitively priced at £1, the I Love Sweets Halloween variety bag is excellent value for money and perfect for this calendar occasion."

The I Love Sweets Halloween variety pack will be available in major retailers from September 2014.