Tangerine Confectionery, t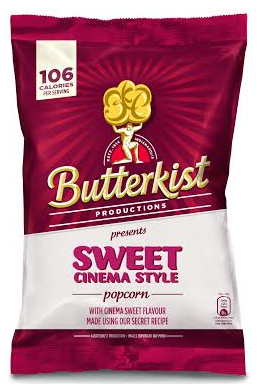 he maker of the UK brand Butterkist, has refreshed its' pack design across its range of snacking treats.

As the brand experiences increasing sales growth, the newly optimised pack design aims to build on this momentum through improving consumer perception of these tasty snacks by introducing clear calorie messaging to the front of all packs.

Lastly, the back of packs have been revitalised to include cross selling messages, educating consumers on the breadth of the Butterkist range.

Helena Blincow, Butterkist Brand Manager, said:

"The re-invigorated packaging reinforces Butterkist at the forefront of the popcorn market, as we continuously strive to adapt to changes in the industry and consumer requirements.

"We believe the changes to the Butterkist pack design reflect and meet the needs of the current popcorn market.

"The new pack designs will strengthen the brand's offering for existing fans and will offer standout for retailers looking to secure new consumers to the category.

"We aim to cater for both consumers looking for a treat and those who are health conscious and looking for an alternative snack to crisps."

The new pack design has been rolled out over the past month and is available now across the full Butterkist range.